Find out more about all of our various characters both human and non-human here!
The Reverend Gyles Ponsenby-Smyth is the resident vicar of St. Hilary's! He was originally living and working in Australia but has come to England in his retirement to take up the post of vicar of St. Hilarys!
Rev Ken is actually the father of both Poppy and baby Clarissa. They are SO pleased that their daddy was asked to become the curate at St Hilary's. Poor mummy, however, is often at home on a Sunday cooking lunch! See him when he arrived at St. Hilary's here! Top
Bishop Cuthbert is actually a cousin to the vicar. He returns home after a long time travelling around the world. His pet dog, Bardsley, is delighted to have him back at home again!
Bishop Cuthbert normally only comes to St. Hilary's on special occasions as he is SO busy working for his diocese. Find out more about him here!
Miss Enid is the church's resident organist.
Esther is St Hilary's Sunday School teacher.
Mr. Stephen Sebastian George Davies is the VERY lucky husband to Esther, the Sunday School teacher.
Alice enjoys looking after the younger chlildren in the Sunday School and, when away from church, enjoys her dancing classes. She hopes to be a ballerina when she grows up.
Ambrose is Alice's boyfriend. He is the son of a local farmer. Although his father, who is bringing him up on his own, is not very well off, they pride themselves on working hard and keeping clean and tidy.
Rita is a "lady of the road" who has travelled from Australia and has found refuge in St Hilary's. Find out more about Rita when she arrived here!
Homer is a man of the street who has found temporary refuge in St Hilary's. The children are kind to him and love to put pennies in his hat. He arrived with his pet pigeon and rat. Find out more about him here! Top
Amelia is the intellectual of the group. She is a very demure young lady who's intelligence means she gets bored easily.
Benedict is a bit of a show off and loves to perform to the Sunday School girls.
Clara is the lady of the group.
Emily is the tomboy. When not obliged to wear a dress and come to church you would probably find her up a tree.
Megan is a little girl who is easily fascinated by everything around her. She always enjoys her time in St Hilarys and NEVER gets bored.........even during a long sermon from the vicar!
Phoebe is very shy and lacks confidence. However her dolly helps make her feel more secure when she visits St Hilary's and joins in the Sunday School activities.
Priscillla Jane always loves to pray on her knees with her hands together - she looks so angelic doesn't she? See her on our Prayer Time page.......
Grace or "Gracie", as her friends like to call her, loves to stand and sing whilst playing her tambourine in church!
Baby Clarissa is such a good baby. She just loves to watch the older children play and perform in church.
Thomas is a little monkey but always charms his way out of troubles with his appealing little face.
Poppy is the prim one.
Robert Alexander is a rather nonchalant young lad who is rather lazy in his manner. He refuses to come to church at all if he can't bring his dog, Georgie, with him.
Adele is a very helpful young "Miss" who is very proud of her long plaits!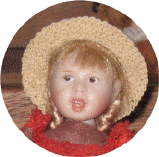 Rachel Ann is the first born child of Esther and Stephen. She is a good baby, very much like baby Clarissa Elizabeth. See her baptised here! Top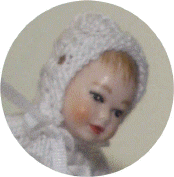 Magnifi-Cat the church cat. He is very cunning. However he keeps letting the children and their antics distract him so he has yet to catch Nunc Dimittis the church mouse. See more here!

Nunc -Dimittis the church mouse is a very courageous mouse because he enjoys teasing poor Magnificat terribly and has always got away with it..........so far............see more here!

Homer's pet rat ,Sepp loves her master and loves to guard his hat so that nobody steals the pennies the children put in it.

Syd the pigeon traveled with Homer from Germany. He is devoted to Homer and would never leave him.

Georgie is Robert Alexander's pet dog, a King Charles Spaniel. She loves to go with her master to church despite the vicar not being too pleased to see her week by week! She gets up to quite a few antics of her own too!

Tinker is a local feral cat who fends for herself as nobody has time to look after him. That is why she is so small and thin! She loves to come in to church and play with the bell ropes. She sometimes manages to ring the smallest bell and wake the vicar up who lives in the vicarage next to the church! Tinker's best friend is Belle, the poodle, with whom she goes everywhere..

Belle lives locally with VERY caring people. That is why she looks so well groomed! However she does love to escape when they aren't looking to join her friend, Tinker, the black and white cat. They love to get up to mischief together. Belle often sneaks food from her dog bowl to feed Tinker if she has not had enough to eat - isn't that kind of her?

Percy Spider is the resident church spider who enjoys catching all the nasty flies that carry disease in the church. The children are always told to leave him well alone as he is doing a great job! See him when he appeared at Esther and Stephen's wedding here! The vicar has told the children that ALL spiders anywhere in the world are to be treated with respect and left alone.

Esme and Ernest are a pair of Mallard ducks who live in the local pond near the church. They particularly love young Ambrose and are prone to following him into the church when he attends!

Bardsley is Bishop Cuthbert's dog. See him when he was reunited with his master here!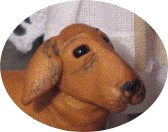 Prince is now Rev Ken and family's pet dog. He WAS originally to become a guide dog but he failed because he was too easily distracted when he saw anything he thought was good to eat!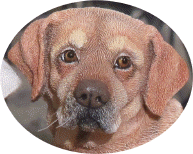 Eric is the father of Ernest, the husband of Esme!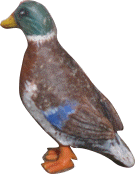 GP is Grace's pet guinea pig. She loves to bring him to church as he is very well behaved and keeps her company too!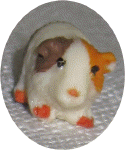 Gloria is an auntie to Esme and she is enjoying living in Daffodil Green as she gets to know widower, Eric.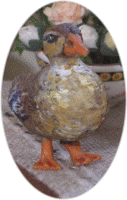 Please note: we do not accept link exchange email requests made purely to enhance ratings on Google. Only sites that are both relevant and loved by us will be considered.
This site is dedicated to Hilary Doreen Davies who departed this life 26 November 2003 aged 71 after 23 years of chronic illness with strokes, cancer and arthritis. St Hilary's Church is our tribute to a brave lady who was mother to Sarah, Catherine, the late Rachel, the late John and wife to the late Owen Williams Davies.
Copyright © 2003, 2004, 2005, 2006, 2007, 2008, 2009, 2010 Sarah Jane and Andrew Price
Updated: 20 November 2010