Homer seeks sanctuary!
H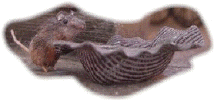 omer (complete with his bottle, pet rat and pigeon) is a very old man who has lived on the streets for many years now. He was actually born in Germany but has decided to come and visit England. The vicar, although he can be very pompous, is a very kind man who has allowed Homer to come in and make himself warm and comfortable in the church when times are hard for him. The St Hilary's Sunday School children have always been taught to be kind to people like Homer. They always enjoy putting the odd penny from their pocket money in Homer's hat when they see him in church. In return Homer enjoys telling the children nice stories about his adventures with his pet rat and pigeon.

Who have we here? A quick peek round the door today reveals Homer who has decided to take temporary residence in the church bell tower complete with his pet pigeon, Syd and rat, Sepp.

Magnifi-Cat has taken full advantage here after seeing this hat!!. Homer has put his hat on the floor next to the door hoping that visitors will put some money in it for him. Homer's pet rat likes to keep guard of the hat but it does rather put her at peril when Magnifi-Cat is around:-)

Nunc, the mouse is also being very brave too as he decides to come and greet his new rat friend.

Next
Clara is the first Sunday School child to arrive and she immediately feels sorry for poor Homer. She decides to sit down for a while and put a few pennies from her pocket money in his hat. It was a good job that one of her parents gave her some pocket money today wasn't it?

Next
Ben arrives next and puts a penny in Homer's hat. Homer is pleased to see Ben and has come down to sit on the bottom of the stairs for a chat. Next
All the children have now arrived and they all put some money into Homer's hat.

Their Sunday School teacher would be so proud of them. Their teacher has taught them to be kind to all people everywhere who are not as lucky as they are.

Next
Homer settles himself into one of the back pews. Magnifi-Cat and Nunc Dimittis join him. Homer's pet rat is a very brave rat as can be seen here!!! He always guards Homer's hat so that nobody steals any of the pennies that the children have given him. Next
Amelia and Ben decide to sit with Homer. They ask him to tell them some stories about the time when he lived in Germany. Homer has also travelled all around the world and he has a tale to tell about every country he has visited. They are captivated by his story telling..

Emily and Tom join Ben and Amelia as they listen to Homer telling his stories.

Next
Poor Homer!!! He has nowhere to go tonight so he settles himself in for the night in one of the back pews. He still clasps the bottle of fruit flavoured mineral water he bought from the local Co-op store.

The children have, of course gone home now so he is all on his own in the church. However.....he still has his rat and pigeon as his faithful companions. They love him and would never leave him.

Top
Note: All visitors be well reassured - St Hilary's vicar ensured that Homer and Rita have been fully checked out by the British Criminal Records Bureau so that they knew that all of the children would be safe in church when Homer and Rita visited. The bottle is NOT wine at all but fruit flavoured mineral water that Homer likes to share with the children when they bring him some sandwiches!)
Please note: we do not accept link exchange email requests made purely to enhance ratings on Google. Only sites that are both relevant and loved by us will be considered.
This site is dedicated to Hilary Doreen Davies who departed this life 26 November 2003 aged 71 after 23 years of chronic illness with strokes, cancer and arthritis. St Hilary's Church is our tribute to a brave lady who was mother to Sarah, Catherine, the late Rachel, the late John and wife to the late Owen Williams Davies.
Copyright © 2003, 2004, 2005, 2006, 2007, 2008, 2009, 2010 Sarah Jane and Andrew Price
Updated: 20 November 2010